Beauty Influencers are going wild over this powerful All-In-One Facial.

By Kelly C. 
HANACURE FREE SAMPLES ARE BACK FOR A LIMITED TIME!
Everyone, including Beauty Influencers and Celebrities around the globe have taken to Instagram, Facebook, and Tiktok this summer to flaunt their skin after trying this revolutionary product from Hanacure. Now, with the relaunch of the Complete Regimen giveaway, it looks like it's shaping up to be one of the
hottest
skincare trends this summer.
As regular visits to salons have dwindled this past year, demand for at-home beauty solutions has only increased! More and more people are searching for a convenient and effective skincare routine without leaving home, and this product has become a must-have for those that love luxury skincare!
"It feels like I just stepped out of a time machine. My skin hasn't felt this soft and tight in year."
says Suzanne, 53
Trusted by nearly one million people worldwide, this serum boasts rave reviews from users of all ages… from 18-year-olds to 98-year-olds! For a fraction of the price of professional spa treatments, this routine delivers professional, at-home results. Powered by natural botanicals, this fantastic facial has been shared all over social media by hundreds of models, celebs, and even doctors and dermatologists
The results speak for themselves.
Now, with this unique link, their top-selling All-In-One Facial comes in a limited-edition complete regimen, including 4 FREE samples of Moisturizer and 4 FREE samples of their Cleanser. But hurry, this special giveaway will not be around for long... Click here to try the Hanacure Challenge today and see what everyone is raving about.
Skincare products can also be a great gift idea. However, with so many choices on the market, it can sometimes seem impossible to make a decision. In fact, making sure that the product is safe, ethical, and effective is not always so simple to do.
To help narrow down the options, I tried this new viral routine, one of the top celebrity-reviewed beauty trends of 2021. With endorsements from leading dermatologists, the All-In-One Facial was one of the hottest-selling beauty products of this past year — and now you can take advantage of gettng the complete Hanacure skincare regimen

Drew Barrymore says,
#BEAUTYJUNKIEWEEK IS HERE! (Unsolicited advice from one beauty junkie to another!!!!) it just felt right. Let's get her started with @hanacure because it gets the job done! Intsa facial!!!!!! I swear by it! Slather one on, get tiiiiiiigggghhht, and voila! A professional level treatment at home. Trust!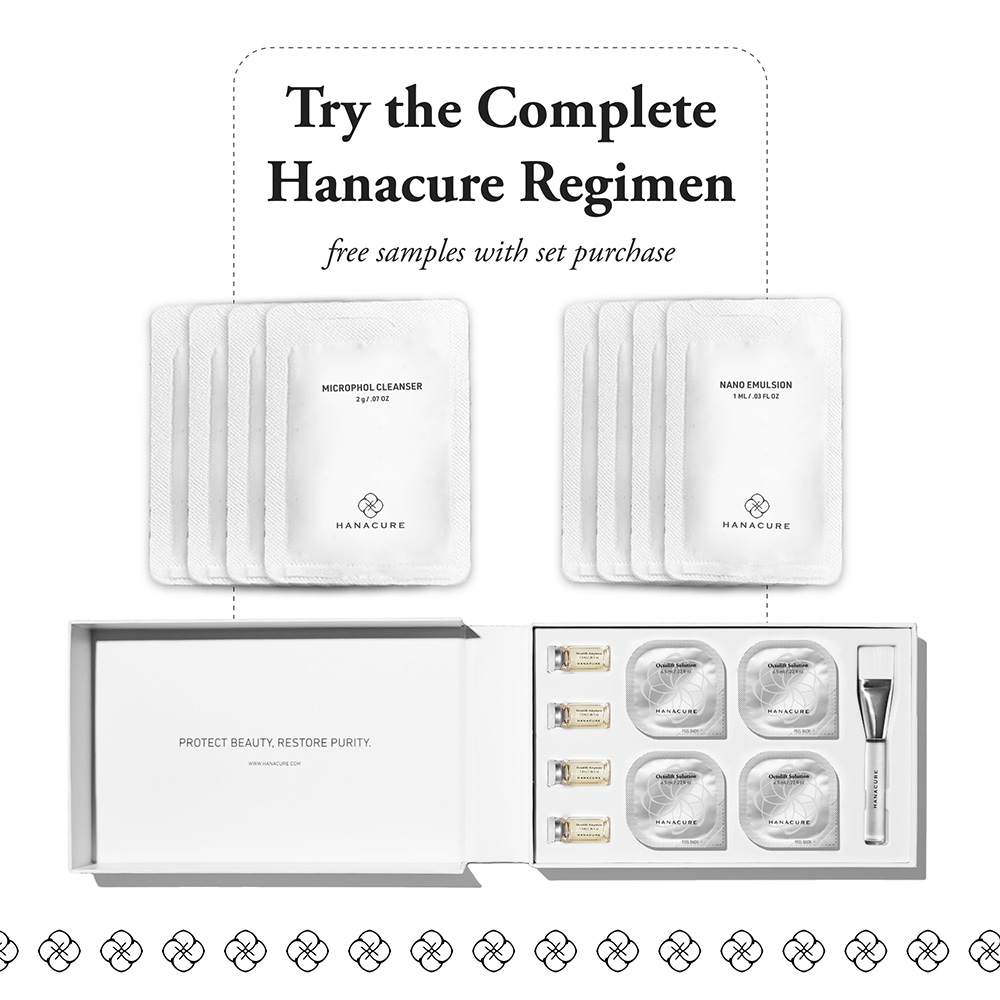 What Is Hanacure?
Hanacure's All-In-One Facial is intended for home use. Backed by a ton of research, the company worked on this product for three years before sharing it with the public. Basically, it's a powerful gel mask that transforms skin, leaving behind a smooth, radiant complexion.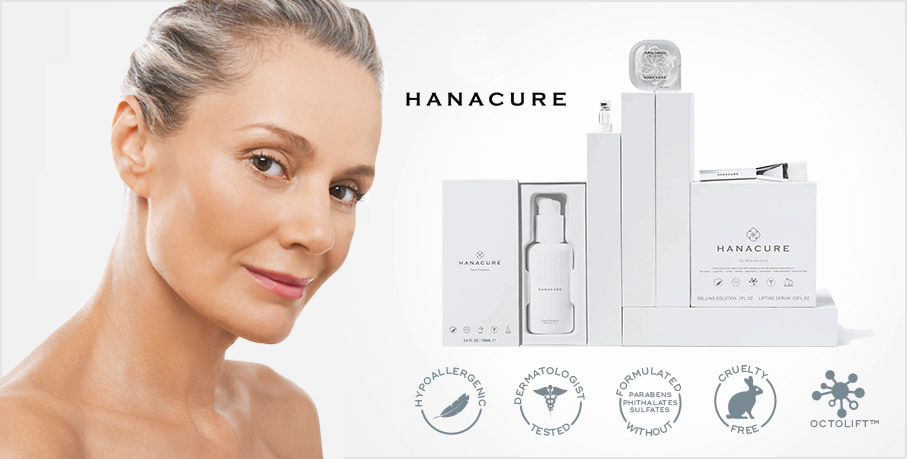 How Does Hanacure Work?
Let's backtrack to our high school chemistry class for a minute. According to Hanacure's website, the product delivers patented CO2 OctoLift™ technology that tackles major skincare concerns, providing immediate results. Simply put, Hanacure absorbs impurities and toxins from your skin with a purifying compound. The CO2 OctoLift™ fuses the purifying compound with carbon dioxide from the air, transforming the gel from a liquid to a solid.
So how does it work? Well, try these 3 easy steps.
1.

 

To start, add one vial of the Lifting Serum to a packet of Gelling Solution and shake for a few seconds.
2.

 

Using the brush, apply the gel to your face and neck and wait 30 minutes for the mask to take effect.
3.

 

Wash it off with a warm towel and watch the dead skin, wrinkles, and fine lines fade away.


This process causes the signature tightening many users describe on Instagram, but it goes away when you remove the mask. In the meantime, soothing botanical extracts nourish your skin while peptides combat the visible signs of aging. When you rinse away Hanacure, you're left with skin that looks and feels better — even after the first use.

You'll feel like one of those snakey skinned sci-fi characters in a
movie that you fell asleep in.
4 Neutralizing Cleansers & 4 Nano-Emulsions sent for Free
Very rarely this amazing skincare brand, which uses only 100% vegan and cruelty-free ingredients, decides to give away 8 FREE samples with each order. Their Complete Regimen Event is now live, but act now, as it will only last supplies run out!
This exclusive Hanacure Complete Regimen is the perfect gift to share with friends and family. It includes 8 FREE samples of Hanacure's Neutralizing Cleanser & Nano-Emulsion Moisturizer, which act as the perfect complements to their already-powerful All-In-One Facial Kit.
However, I'd suggest not wasting too much time, because this exclusive Summer offer is only available for a limited time. Once these limited-edition bundles sell out… that's it! With the amount of attention they've received so far all over social media, since they announced this deal, it doesn't look like this offer will make it until the end of the month!
PERFECT TO STEP UP YOUR LOOK THIS SUMMER
Ready to discover this celebrity-approved, All-In-One skincare routine? Try it for yourself. Or, give it as a gift to the A-listers in your life. Or even better, make it an occasion an invite your girlfriends over for a spa day at home, with the world's #1 All-In-One Facial!
This breakthrough solution has been called a "modern-day fountain of youth," as well as "a time machine and wrinkle-eraser for damaged and aging skin."
Hanacure's revolutionary formula is a winner of Bazaar's 2021 Anti-Aging Award. In addition, this serum, which is packed with natural botanicals, has been featured in Vogue, Elle, Allure, Cosmo, and more!
Is Hanacure Worth It?
If you can get your hands on Hanacure, especially right now with this insane promotion they are running, then by all means… do it! As it is already, this All-In-One Facial is constantly selling out, having seen increased demand this year due to a celebrity-cult following.
Seriously, everyone who tries Hanacure loves it, including me.
I Tried Hanacure and Here's What Happened
Having heard all the hype surrounding this product, I decided to take advantage of this limited-time bundle deal. It only took a few days to arrive, and I started my 28-day journey that evening. It only takes 1 use a week, about 20 minutes per application. So it's not time consuming at all.
I heard amazing things about the All-In-One Facial as a standalone product. So I was super excited that I got to sample the Nano Emulsion and Neutralizing Cleanser formula without having to pay!
Compared to some of the luxury skincare products on the market, this solution is super affordable. You can choose the option to pay in 4 installments, and it cost me only $27.50 to make the initial payment.
I noticed my skin was softer and had less acne after just one use. I couldn't believe it! The second time I tried Hanacure, I saw the fine lines disappear around my eyes. After my third time wearing the soothing gel mask, my entire face was glowing, and not from oil. I love the way that the face mask interacts with the cleaner and Nano Emulsion products as well. Although I was a little skeptical at first, I'm definitely a believer!
This product is too good not to share! It doesn't contain any skin-harming ingredients. There are no parabens, sulfates, phthalates, artificial fragrances, artificial colors or alcohol in Hanacure — just good stuff that detoxifies, firms, lifts, brightens, and refines the appearance of pores for a smooth, glass-like complexion. I strongly suggest you order this limited-time Complete Regimen with 8 FREE samples, while you still can!
I already ordered a bunch of them as birthday gifts for my girlfriends and Mom this Summer! ;)
FINAL WEEK OF THE FREE SAMPLE GIVEAWAY!
Customer Reviews