Keeping up With the Kardashian's Latest Beauty Obsession: Hanacure, the Internet's Favorite Beauty Mask
The result is peak #HanacureEffect.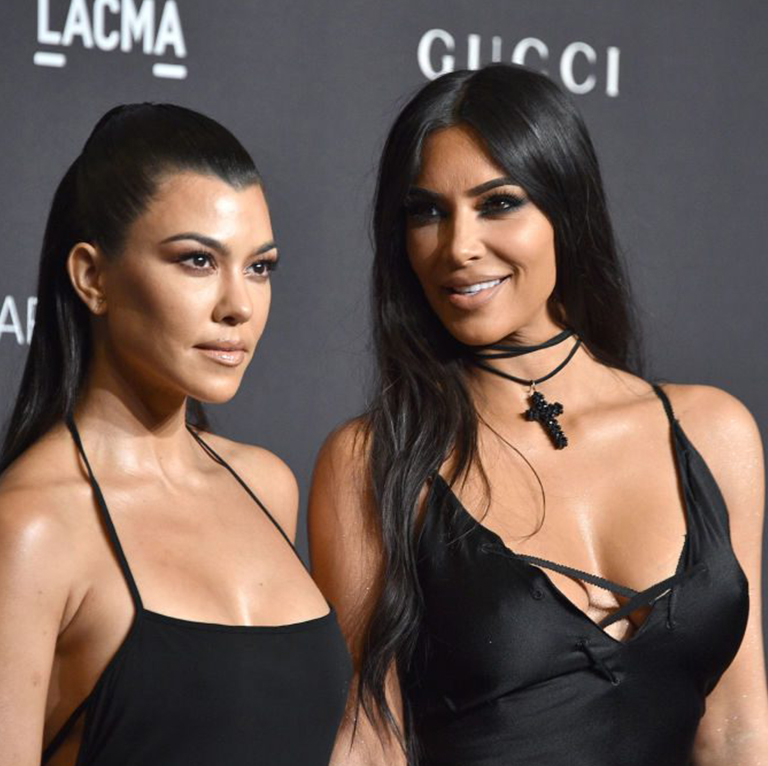 I get it; washing, exfoliating and moisturizing your skin is practically a full-time job, especially when you consider all the different serums and creams necessary for a radiant complexion. But what if you could find one powerful product that boasts the anti aging benefits of your entire skincare collection? That's what Hanacure claims to do, and celebs can't stop praising the perks of this at-home facial.

Inspired by the transformation and purity of the lotus flower, this skincare essential renews and rejuvenates skin in just 30 minutes. Use it once a week for a full month and voila — softer, smoother skin with fewer wrinkles and age spots.

I'm not going to lie, though, The Hanacure mask looks super weird when you apply it. Kim and Kourtney Kardashian showed off their #HanacureEffect with a spooky selfie that shows how the mask basically freezes your facial expressions while smoothing away wrinkles. In the pic's caption, Kourtney wryly jokes, "Kim convinced me to use this face mask and I feel stunning."
Kourtney isn't the only Hanacure fan who noticed how this best-selling mask makes you look — well, a bit creepy — until you remove it.
"My husband watched in horror as I slowly transformed into one of the Stone Men from Game of Thrones," one mask wearer confesses. She also says, "It literally froze my entire face in place, making it next to impossible to talk."
Busy Philipps can relate. She quips, "Guys I can't talk. My face is cement. Washing it off now." when describing her Hanacure experience.
Drew Barrymore
says, "It gets so tight that it literally pulls your face," but also raves, "when you take it off you are 10 years younger."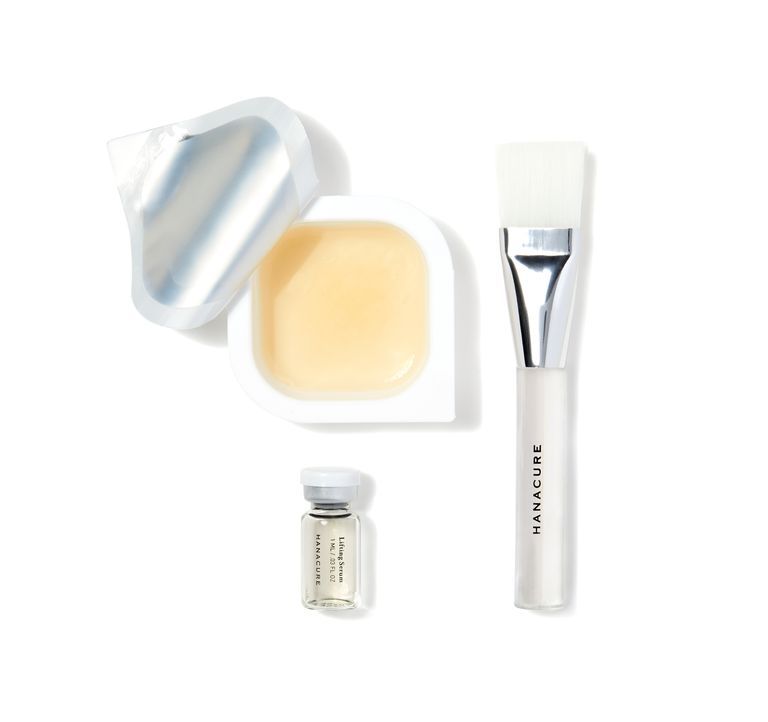 Hanacure Facial Set, hanacure.com
Courtesy
After reading comments like these, my interest peaked, and I absolutely had to try Hanacure for myself. Here's what I learned before I attempted my own #HanacureEffect selfie.
What Is Hanacure?
Hanacure's All-In-One Facial is intended for home use. Backed by a ton of research, the company worked on this product for three years before sharing it with the public. Basically, it's a powerful gel mask that transforms skin, leaving behind a smooth, radiant complexion.
How Does Hanacure Work?
Let's backtrack to our high school chemistry class for a minute. According to Hanacure's website, the product delivers patented CO2 OctoLift™ technology that tackles major skincare concerns, providing immediate results. Simply put, Hanacure absorbs impurities and toxins from your skin with a purifying compound. The CO2 OctoLift™ fuses the purifying compound with carbon dioxide from the air, transforming the gel from a liquid to a solid.

This process causes the signature tightening many users describe on Instagram, but it goes away when you remove the mask. In the meantime, soothing botanical extracts nourish your skin while peptides combat the visible signs of aging. When you rinse away Hanacure, you're left with skin that looks and feels better — even after the first use.

You'll feel like one of those snakey skinned sci-fi characters in a movie that you fell asleep in.
Is Hanacure Worth It?
If you can get your hands on some Hanacure, by all means, do it. It's sold out every month due to its long list of loyal followers, from A-list celebrities to women just like you and me. Seriously, everyone who tries Hanacure loves it, including me.

I Tried Hanacure and Here's What Happened
I'll be honest, I wasn't fully convinced by all the Hanacure hype. I mean, anyone can claim to love a product for the right price, so who's to say these fans weren't paid shills for the company? Despite my doubts, I went ahead and purchased the all-in-one set + Nano Emulsion from this website.

The product isn't cheap, so I broke the total down into four small AfterPay installments, so it didn't drain my checking account.

Is Hanacure worth the price? Absolutely. In fact, I just ordered another set because my first one is almost gone.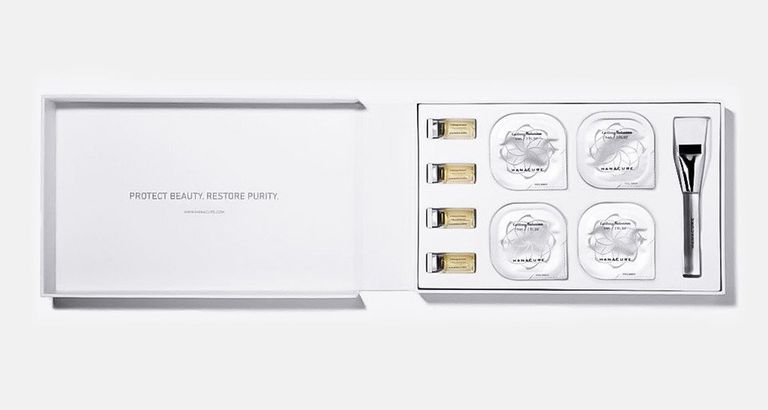 Hanacure Facial Set, hanacure.com
Courtesy
I noticed my skin was softer and had less acne after just one use. I couldn't believe it! The second time I tried Hanacure, I saw the fine lines disappear around my eyes. After my third time wearing the soothing gel mask, my entire face was glowing, and not from oil. I looked youthful, healthy and beautiful. I'm excited to see what happens after the fourth time I try Hanacure.
Oh, and I got to rock my own monster face each time I used the mask. I'm sure my friends got sick of me snapping selfies on Snapchat, but whatever. This product is too good not to share! It works miracles, and I love that it doesn't contain any skin-harming ingredients. There are no parabens, sulfates, phthalates, artificial fragrances, artificial colors or alcohol in Hanacure — just good stuff that detoxifies your skin and firms pores. When it comes to Hanacure, I just have one regret, I wish I would have tried this powerful product sooner.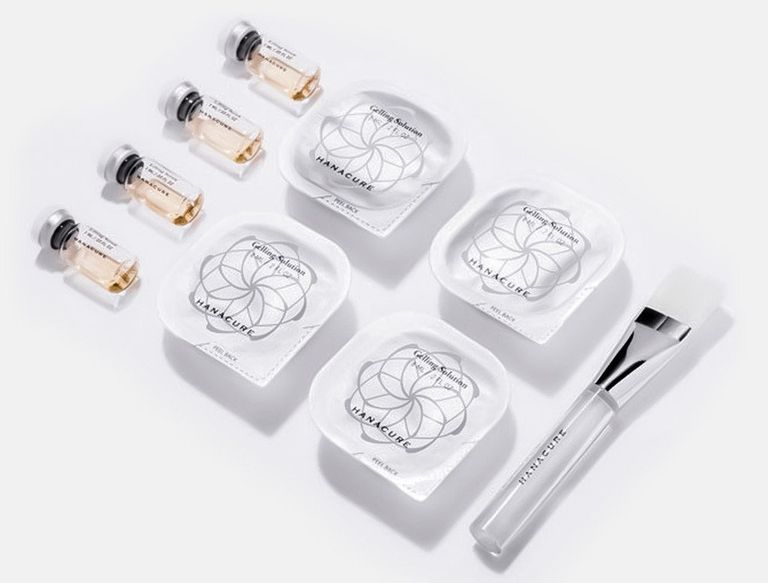 Hanacure Facial Set, hanacure.com
Courtesy

©2021All Rights Reserved.
Privacy Notice | Terms of Use